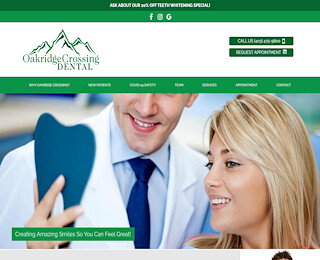 If you find yourself unfortunate enough to be in need of an SW Calgary emergency dentist, contact Oakridge Crossing Dental right away. We are pleased to offer comprehensive emergency dental services, and we incorporate time into our scheduling every day specifically for the purpose of treating emergency dental issues.
We Provide Valuable Emergency Dental Treatment

Sometimes, people find themselves in an urgent dental situation and need help immediately. There's no way to control when a dental emergency strikes. At Oakridge Crossing Dental, we have helped thousands of dental patients in urgent need over the years. In fact, Oakridge Crossing Dental has earned a reputation in SW Calgary for going out of our way to accommodate people with emergency dental issues. Unfortunately, many other dental offices do not help in these situations.
The kinds of emergency dental problems we can help with include:
Chipped or cracked teeth
Toothaches
Fillings that are loose or have fallen out
Sore or bleeding gums
A needed implant
Infected teeth
A wisdom tooth extraction
Same-day crowns or root canals
What You Should Know About Our Emergency Dental Services
It's important for you to understand that while Oakridge Crossing Dental strives to accommodate every single patient who comes into our office, handling emergency situations can be a challenge. Therefore, we have to set the right expectations, and there are three things you should expect when coming to Oakridge Crossing Dental to see an SW Calgary emergency dentist:
First, since others may have dental emergencies, our scheduling has to be on a first come/first serve basis. Most of the time, we can see you relatively soon, but there are times when working you into an already full schedule means that you may have to wait a while. Our emergency guarantee is that if you arrive before noon, we'll provide same-day dental care. The best course of action is to call our front desk and ask the receptionist how you can fit in.
Second, we want to be able to handle all of your dental issues on the same day. This will depend on your dental condition appropriate treatment.
Third, if you are fearful, nervous, or require more advanced dental surgery like wisdom tooth removal, then you probably require sedation. If you're hoping to have same-day dentistry done under sedation, then you need to arrive as early as possible. Ideally before noon, with an empty stomach and with a ride waiting. Also, when you call for scheduling, be sure to ask when a dentist trained for IV sedation will be available.
Find a Highly Experienced SW Calgary Emergency Dentist at Oakridge Crossing Dental
Our office is uniquely designed to help in dental emergencies. Our convenient central location, extended hours, and friendly staff will get you in the dentist's chair as soon as possible. In addition to sedation, we also have convenient and comfortable amenities such as free parking, overhead TVs, and a free Internet bar. At Oakridge Crossing Dental, we not only want to help you in an emergency situation, but we also want to become your regular dental family. We look forward to helping you.
We welcome your comments!